Using the "TEACCH" System
in the ECDD Classroom
TEACCH is a very organized system used to set up a classroom for students with Autism or those students with learning disabilities who are beginning the process of "learning how to learn." There is so much research supporting the use of TEACCH in the classroom. TEACCH stands for "Treatment and Education of Autistic and related Communications Handicapped Children."
Lori Loding, an early childhood teacher at the Sanilac Intermediate School District, has implemented the TEACCH system into her classroom and adapted it to fit her young student's needs. It is a system of Task Boxes that are done on a daily basis which include individual IEP Goals, pre-concepts, Math, Language Arts, fine-motor activities, sensory items, and monthly themes. The tasks encourage focus and successful completion of goals that build a framework for continued learning and esteem building.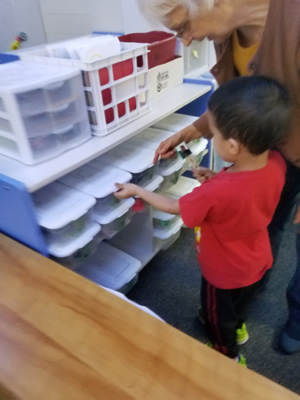 The way the Task Boxes work is as follows: Every student has their individual task schedule. They are taught to pick their box by their specific number given. The students then take their task box to their seat and take out the contents of the task and put it on a tray. All students work as independently as possible to complete their task. Every task has a visual direction card for the student to follow. Some students will need more help than others to attend to their tasks. Once the student has completed their task, they are taught to raise their hand for an adult to check their work. Then, the student takes their box back to the shelf area and they continue with their next task box. They follow this order until their individual boxes are completed.
Using the Task Boxes in a TEACCH System helps Loding to provide the opportunity for her young students who need a high degree of structure to understand success and build upon that success for greater skill and independence
Former Students
Dear Former Student:
If you completed a program at the Career Center in the last two years, in the coming weeks you could be receiving a call from someone at the Sanilac Career Center to see what you have been up to. It will only take a couple minutes of your time and all information will be kept confidential. By doing this you will help us improve our programs and services.
To be contacted by email for this survey or to report a phone/address change please contact Tracy Navarro at tnavarro@sanilacisd.org or (810) 648-4700x4233.
Thank you and best wishes.
Careers in Education Student
Winners at SkillsUSA Competition

Students in the Careers in Education Program at the Sanilac Career Center competed in the Skills USA Regional Competitions at Delta College on February 23rd.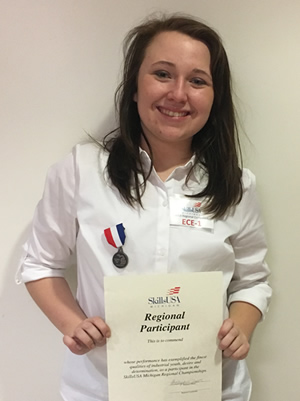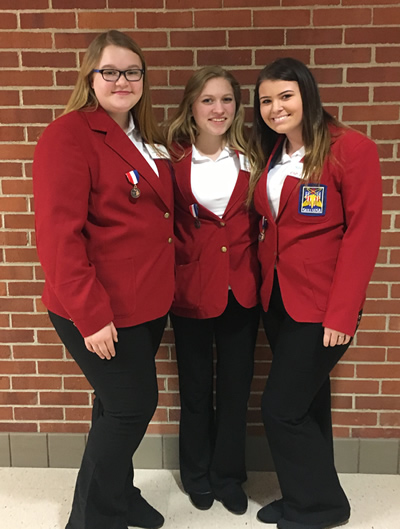 Josie Vincent(left picture), Peck junior, placed 2nd in the Early Childhood Education contest.
Skylah McDonald, Billie Fisler, Cros-Lex seniors, and Kayleigh Mifsud, Cros-Lex junior (right picture), took 3rd in their Community Service Project competition. All four students are advancing to the state finals in Grand Rapids in April.
Students Shared Valentines
The special education programs from the Sanilac Intermediate School District, located at the Sanilac Career Center teamed together for the students to have the opportunity to share a bit of Valentine's cheer at the Medical Care Facility located in Sandusky. Students made Valentine's for over 100 residents. In addition, they created vases with flowers. The day before Valentine's Day they visited the Medical Care Facility, greeted residents, and handed them their gifts.